A Fit for the Kings
P. A. Milko's "A Fit for the Kings" is a realistic fictional novel about the relationship between the King family and their long-term nanny Kam. It's a modern day tale with the twist of modern day problems; the current economy and the economic meltdown being two of the major components.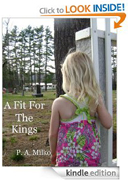 This novel helps show the struggles a duel career family faces as well as those of a single, sole-providing nanny; both entirely different but trying in their own way.

Told in succession by five distinct characters: the mother, the father, London, the thirteen year old son, Becca, the five year old daughter [who has the extra challenge of ADHD], and Kam, the beloved nanny, this novel wallows in misperception and misunderstanding and as a result tumbles easily down into a very unfortunate outcome..

"Amazing find from a first time author. The kind of book you want to find on the shelf in a cozy little beach house. Insightful, thought provoking, made me truly appreciate everything that I have. This novel went deep. It made me laugh and cry." ~ Laura

Click here to read a recent Q&A session with Pam by "The Nanny (timebomb)."